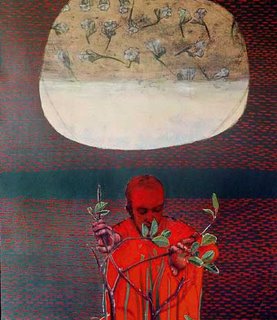 Q)So, can you tell me a little about yourself? Full name, age, some background info, etc?

A)Alexandra Wiesenfeld. Born 1967 in Munich Germany, came to LA at age 18, BFA at Pomona College in Claremont, and then moved to Montana for the next 7 years, got my MFA at Montana State University, taught at the university there and aftwards at the university of Iowa for 2 years, then a residency in Roswell, New Mexico, and back to LA, where I still am.2 little kids, a husband of 17 years, presently working lots of different temporary jobs, like teaching, painting murals in and on houses and works for feature films, and commissions, and spending every free moment, mostly nights, on my own work.

Q)How did you get started making art?

A)My father Paul was an artist and my brother Daniel Wiesenfeld has been since early on. I never made art growing up, thinking that was my brother's department. As soon as I left home though, I did nothing but. I taught myself to draw, and first focused on sculpting, then solely on painting.

Q)How would you describe your art?

A)Psychological, figurative, surreal

Q)Where do you get the inspiration for your art?

A)Landscape, found images, snap shots

Q)What are you working on now?

A)On burnt or otherwise destroyed landscapes with much detritus, which I paint quite freely . Once done I paint a ridiculously glossy and tacky beaded necklace over and around most objects.

Q) How do you approach the creation of a new piece... how does everything come together?

A)Things come together in a collage like way. I look for an image (from an image I found or took myself) that has the mood I am looking for. I combine it with others, then overpaint ,and destroy and overpaint until eventually-- through much elimination-- I find the image that holds my interest.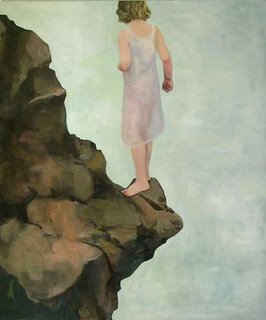 Q) What's your favorite medium to work in, and why?

A)Oil paint, any paint, really, except for water color. Since I seem so little able to plan my work, paint seems more conducive to working and re-working. I love the tactility of paint and the way it can hold shape.

Q) Do you collect anything?

A)Newspaper images, snapshots.

Q) Is your work all hand done? Or do you use any computer tools to help out?

A)All hand done.

Q) What, in your opinion, are the best and worst places to exhibit artwork?

A)It all depends on the type of work.

Q) What are your artistic influences?

A)The Old masters, Rennaissance painting, Beckman, Gerhard Richter.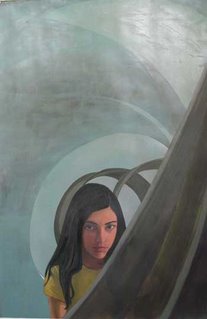 Q) How are the reactions on your work in general?

A)I can never really tell how someone will react to it. Since there is much psychology without an open narrative in my work, writers seem to gravitate towards the work.

Q) What are you doing when you are not creating art?

A)Taking care of kids, mine and others, driving (it's Los Angeles after all), teaching,walking, reading,looking at art when i can eek out time, entertaining

Q)What are some of the greatest challenges that you think artists face today?

A)Because of how rapidly information and images can be dispersed, globally, the challenge for the successful artist seems to be to maintain integrity of concept and working process.Simultaneously there seems less patience with artists who might not achieve stardom right off the bat. Age weighs against them, and the fast pace in general does not allow for forces that are not market driven. but that is nothing new.

Q) What is freedom to you as an artist?

A)Freedom to me as an artist is to be allowed to change, to have the time and means and possibly the support to develop ideas.

Q) Are there any particular works you've done that stand out as your favorites?

A)On my website, the paintings "blue rocks", "lawn chairs", "pink" and "pink girl" are some I like.

Q) What it the coolest thing you have seen recently while wandering the streets?

A)I was walking the hills around our area (north of downtown LA) as the sun was setting. The trees were poking their black and strange shapes against the luminous pink blue sky.

Q) Do you carry a notebook? Do you draw in public?

A)No, unfortunately not .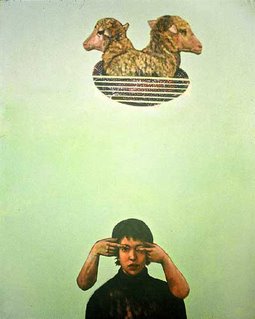 Q) Who are your favourite artists & Your favourite galleries?

A)Carl Berg Gallery, Angles, Acuna Hansen ( all in LA).Neo Rauch, Sally Mann, Kara Walker, David Schnell.

Q) Do you get emotionally attached to your work and do you miss your work when it is sold?

A)Yes I do, at first, and I will dissuade people from buying it, because I do have such a hard time letting it go, but once a bit of time has gone by, I will over-paint or destroy the work if it's still in my hands

Q)Your contacts….E-mail…links

A) pjchalex@earthlink.net
http://alexandrawiesenfeld.com