Q)So, can you tell me a little about yourself? Full name, age, some background info, etc?

A)Brown, Able. I am a lover of all ages. Put me in some water and watch me howl!

Q)How did you get started making art?

A)Earliest form of real communication for me. They could not fully understand my grunts, but they damn well understood me when I drew a bird defecating.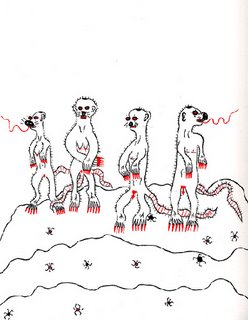 Q)How would you describe your art?

A)Sometimes it is like fishing with a hotdog, and sometimes it is like tumbling in a wave.

Q)Where do you get the inspiration for your art?

A)Hawk Mountain, my Lady, sharp-shinned hawks, Sir Richard Bishop, Tom Russell, Pitseolak, Pin-Oaks, Javelinas, the Sea, Black Vultures, Merle Haggard, Cumberland Island, and other things that are dead and undead.

Q)What are you working on now?

A)Some Drawings for a show at the A.D. gallery in San Jose and some drawings for a 2k t-shirt project.

Q) How do you approach the creation of a new piece... how does everything come together?

A)The creation of a new piece is approached with much aggression. Like biting into a cucumber, or the feeling one has when one is without water in Big Bend National Park. The work comes together by memories, rain, thoughts of throwing spears, sex, ink and nib. And Merle Haggard!

Q) What's your favorite medium to work in, and why?

A)Drawing. Because you can do it in a prison cell or on a mountaintop.

Q) Do you collect anything?

A)Love and water.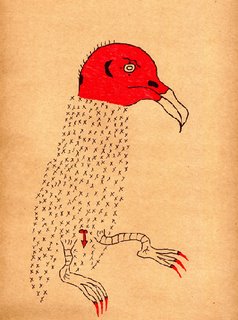 Q) Is your work all hand done? Or do you use any computer tools to help out?

A)I use my left hand.

Q) What, in your opinion, are the best and worst places to exhibit artwork?

A)Best places are bathrooms. Worst places are probably the bedroom.

Q) What are your artistic influences?

A)Swallow-tailed Kites, Pitseolak, Klee, the smell of a Sweet-gum tree, Pinto Beans, Comte de Lautremont, any albino birds, Ladies, Max Fenton, Bonnie Billy, Lewis Canyon Petroglyphs, Heinrich Anton Muller, Cricket Raspet, Hot Tuna, and the summer wind.

Q) How are the reactions on your work in general?

A)Some like it.


Q) What are you doing when you are not creating art?

A)Bodysurfing, Making love, Eating, looking for birds…..

Q)What are some of the greatest challenges that you think artists face today?

A)Themselves.

Q) What is freedom to you as an artist?

A)Everything. If I were not free, I would swell up and develop nasty rashes.

Q) Are there any particular works you've done that stand out as your favourites?

A)Yes. But it changes. I like to show my drawings to people. It's awesome . It's probably what a flasher feels like when shows his parts. And when a person tells me they like a particular drawing, that drawing becomes much more important to me. So, my favourites are always changing.

Q) What it the coolest thing you have seen recently while wandering the streets?

A)Ice T.Or the two peregrine falcons flying around the K-mart on Astor Place.

Q) Do you carry a notebook? Do you draw in public?

A)Sometimes. I carried one for about two months and filled it up and am working off it now. But right now, I am notebookless.

Q) Who are your favourite artists & Your favourite galleries?

A)I think I answered the artist question already. I really like the Marcia Wood Gallery, The Anton Kern Gallery, A.D. Gallery, Motel Gallery, J&L Books, The Riviera Gallery, and anything Max Fenton is putting on the pot.

Q) Do you get emotionally attached to your work and do you miss your work when it is sold?

A) I do get a little attached. But for the most part, I make these drawings for people.

Q)Your contacts….E-mail…links

A) http://ablebrown.com
Ablebrown@gmail.com
http://ghandshake.com
http://imperfectarticles.com
http://daytrotter.com
http://kinkyfriedman.com