1)Something about you....What you want….
1) I am an American Artist who has lived in Europe more than half my adult life. I always felt like an Outsider in my own country. I always felt like an Outsider in Europe too, but I am one. I'm also outside of the Fashionable Art Establishment. I've developed this way of drawing since I was 4 and it doesn't seem to fit into any Trends. I'm even outside of Outsider Art because I went to an art school!What do I want? To be able to draw till I drop dead.

2)What do you do for fun?
2) For fun I go out and mingle with the Earthlings. They have many strange and curious habits which never cease to amaze and amuse me.

3)What kind of release do you get from your images and paintings? Are they in some way cathartic?
3)I get an image build-up in my head. I think in images. If I don't release them, my head explodes.

4)How has the internet and your website helped you spread your artwork to a wider audience?
4)People from all over the world get in-touch with me to tell me how wonderful my drawings are. It's very lovely. Usually I'd meet a limited amount of people through my exhibitions and Openings, but this is extraordinary and is a blessing for someone as isolated as I am with my work.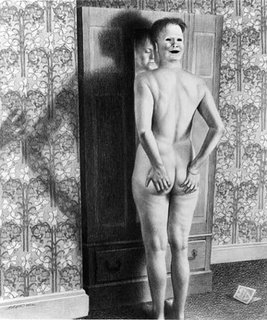 5)How do you define your style and how would you describe your art to someone who could not see it?
5)My style is unique. When I was a child, my father took me to a museum where they had 17th century Flemish paintings. I couldn't believe the clarity and detail of the work! I wanted to learn to paint like that! I went to one of the best art universities in America expecting to be taught the secrets of the Masters, but unfortunately it was the late 70's and "conceptual" art was being taught. When I asked to learn about egg-tempera painting, everyone thought I was mad.I cut all my classes and copied Durer, Van Eyck, Memling, Goya... I taught myself how to draw. I couldn't figure-out how to paint in that clear, precise style, so I developed a technique using tiny, little lines to build-up tones, just like the Flemish painters had used tiny lines to build-up colour. It was a very time-consuming way to create a drawing, but the results were luminous and the detail I could get was boundless.


6)What materials do you use to create your paintings?
6)I use pencil and paper. In the last few years I've added charcoal pencil to my repertoire to get richer blacks.



7) What are you doing now.Your current projects.
7)I am currently an "Artist in Residence" in North London, have a one-woman show on at the Micaela Gallery in San Francisco,and shows on in the Freud Museum, London, the Giger Museum in Switzerland and The Visionary Art Museum in Baltimore.


8) Do you listen to music while you're painting and what do you listen and what do you like to listen?
8)Yes, I listen to music while I'm working. It depends on what I'm drawing. For instance: while drawing my "Day of the Dead" show, I listened to Mexican folk music and lots of Flamenco tunes. I have very eclectic tastes, ranging from Blues to Opera to Rock & Roll. When I look at a drawing, I remember what music I was listening to.I also listen to BBC Radio 4 a lot too.

9)What attracts you more,fame or fortune.sex.drug.or Rock'nRoll?
9)Fortune would be nice, with sex thrown in, but I work because it's my passion. If no one ever saw me or my drawings, I'd still continue doing them. Weird or what?


10)Name 3 things you couldn't create without?
10)I couldn't create without my left-hand, my imagination and my eyes.... although, if I lost any of those things, I'm sure I'd find a way to compensate.


11) Where have you show your art.?
11)I've shown my art all over the world. You can see exactly where in my CV on my website:
www.laurielipton.com


12) Do you collaborate or have you collaborated with magazines,zines.or other ?
12)I've had lots of commissions, if that's what you mean. Collaborate? I usually work alone.

13) How important is self-promotion for an artist nowadays?
13)Self-promotion is essential for an artist, nowadays and always, if you want to sell your work and earn some kind of living. That's why Agents were born... supposedly.

14) What do you fear the most?
14)I fear death and oblivion the most, which is why I try to capture, on paper, the fleeting horror/wonder of being alive.


15) Favourite book?
15)My favorite book changes with me. At this moment in time it's Fritjov Capra's,"The Tao of Physics". I am fascinated by quantum physics and the way science and religion finally seems to be coming together. I also love books that challenge the nature of reality and make you think outside "the envelope".

16) Your contacts..e-mail.links.
16)My contacts and email links can be found on:
www.laurielipton.com