1)First of all,..can you present yourself..?

1)My name is Piotr Storoniak, born 1972. I live in Gdansk which is placed on the north of Poland.

2)Do you think of yourself as an artist,or what?

2)I am not used to label myself as an artist since it is not important to me. I am focused on my work not thinking of who am I. If someone someday, however, would decide to call me an artist I would be glad. By the way, I've got no regular art education so officially I am not an artist.

3)What is creativity?

3)This is the ability to produce, think up or invent items on your own, personal way.

4)Does your environment influence your art, either in style/format or interference?

4)Yes, surrounding influences me strongly. I incorporate fragments of the reality into my works. Funny story regarding work dimensions – almost whole my life, due to living conditions (52 square meters for 4 persons family), I had only small place on my desk where only sheets of A4 format fitted. So I was drawing A4 size artworks only. Now I have bigger room and thus prefer bigger formats.

5)What are some of your influences and inspirations?

5)Main source of inspiration is the visible and invisible world and the art from the past as well as from the present day. Literature is also the rich source of inspiration for me – for example you can view collection of digital compositions on my website which are inspired by the poetry by my friend.


6)What's your favourite mediums(pen,charcoal,paint,canvas,etc…)to work in/on?

6)My basic medium is pen and black ink. I like oil painting also. Currently I do digital compositions only.

7)Who are some of your favourite painters/artists?

7)It is impossible to enumerate all my favourite artists because the list would be to long, randomly few names: Gustav Klimt, James Ensor, Alfred Kubin, Wassily Kandinsky, August Macke, Kurt Schwitters, Joe Coleman...

8)How long does it normally take you to complete a piece of your artwork?

8)Traditional works are usually more time consuming that digital compositions so A4 pen and ink drawings take 5-15 hours while digital works 3-4 hours.

9)What else are you interested in besides visual arts?

9)Natural sciences and spending time with my wife and son.

10)Got any new projects planned?

10)Nothing spectacular. It would be great to increase my art activity.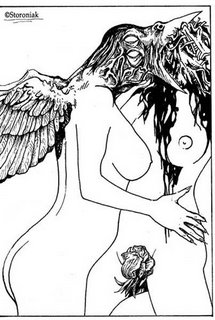 11)How would you describe your art to someone who could not see it?

11)My black & white hand made productions are kind of the exorcism in the winter night, religious pornography and fathoming blackest abyss of hell on the earth. My digital productions are more optimistic and modern but I am unable to describe them in similar way.

12)What other talent would most like to have?

12)To play piano from the score.

13)What are your most beloved items?

13)My computer (with Photoshop and internet connection of course).

14)Favourite books?

14)Randomly some authors: Howard Phillips Lovecraft, Boris Vian, Stanislaw Lem, Wieniedikt Jerofiejew, Michail Bulhakow, Gabriel Garcia Marquez...


15)Do you remember the first draw you made?

15)I remember a lot of my drawings I draw as the child but I do not remember very first ones.
Drawings of my childchood in most cases were the battle-pieces from different historical periods, mainly the middle ages and the second world war. From time to time there were also naval battle scenes with pirates.

16)What kind of music do you like and do you listen…And is the music importan for your art…?

16)I grew up on metal (Metallica, Slayer, ACDC, Megadeth, Anthrax, Bathory, Venom – who remember them guys?) and still I like it very much, although not listening too often. Other great bands are: Type O Negative - which I like best, Motorhead – which shall never die, Tool, Monster Magnet. I am interested also in entirely different music: drones, minimal, soundscapes. It is perfect for listening during the work, it helps to concentrate. From this genre: David Parsons, Robert Rich, Steve Roach, Klaus Schulze. Not so long time ago I have discovered www.archive.org - lots of free stuff under the creative commons licence. I especially like following sound artists: J. Lindgren, Winquist Virtanen, Pablo Reche, K.M. Krebs, Phrozenlight, Mika Björklund.



17)Any advice do you have for artists?

17)No advice. I think that everyone must follow own way.

18)Your contacts…E-mail….Links…

18)I would like to invite to my web site: www.storoniak.art.pl,
e-mail: piotr.storoniak@gmail.com