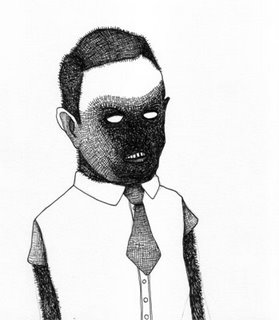 1) First of all, can you present yourself..?
1)My name is John Casey. I've lived in the United States my whole life. I was born on Friday the 13th in Salem, Massachusetts, graduated art school in Boston, Massachusetts, and currently live in Oakland, California with my wife and two cats.

2) Do you think of yourself as an artist, or what?
2)I do think of myself as an artist these days. When I first got out of art school in the late 80s I shied away from the artist moniker. I found that many artists at that time considered themselves "gifted" and that they should occupy some special status in society. My family was working class and I had trouble using the title artist and the connotations that title conjured up. During the 90s the old artist model began to erode with the growth of the internet and one's ability to get exposure online. Now there are so many kinds of art, so many artists from all different backgrounds available to art fans online, and therefore sought out in galleries by a broader audience, that the title artist could mean many things. As long as one practices creativity, one can be an artist I think.

3) What is creativity?
3)Ah, good question. If you ask me this question a week from now, I'll probably have a different answer. Creativity is the process of purposely making a series of wrong decisions to achieve a planned or unplanned outcome. In other words, when trying to solve a problem or build something, one must not necessarily choose the obvious path. You must throw obstructions in your path to force yourself to think awkwardly of differently. That's when the new idea or process emerges. Creativity can be employed in every human endeavor; from painting and drawing to cooking, debating, building, making music or fighting fires.


4) Does your environment influence your art, either in style/format or interference?
4)Sure it does. When I had a larger studio in Boston, I made work that was fairly large. At one point I ended up working out of a small second bedroom and my work shrank accordingly. Now a have a slightly larger studio but my work remains relatively intimate in scale. There's a White Stripes song called "Little Room" that I think expresses the creative workspace pretty well.

5) What are some of your influences and inspirations?
5)Strong art. Solid craft in any medium. Science Fiction, animals, plants and nature in general, politics, the human body, and architecture. Arty, weird movies like Cronenberg's "Naked Lunch", Julie Taymor's "Titus", Tom Tykwer's "Run Lola Run", Aranofsky's "Pi" and "Requiem for a Dream", and most Svankmeyer or Brothers Quay animation.

6) What's your favourite mediums (pen, charcoal, paint, canvas, etc…) to work in/on?
6)I sculpt in polymer clay and assemble wood bits and found objects and paint them. But drawing is the most liberating process for me. It's just the most intuitive process. Pen and ink creates a nice limitation in that it does not have a true subtractive process like graphite or charcoal. It teaches you when to stop before you destroy the drawing. Although I've destroyed plenty.


7) Who are some of your favourite painters/artists?
7)Current favs:Casey Jex Smith,
www.caseyjexsmith.com

Robert Hardgrave,
www.farmerbobsfarm.com

Martha Sue Harris,
www.marthasue.net

Andrew James Jones,
www.stolenideas.com

Nate Williams,
www.n8w.com

Scott Radke,
www.scottradke.com

Joshua Krause,
www.krauseart.com

Brendan Monroe,
www.brendanmonroe.com

Kyle Ranson,
www.kyledamonranson.com

Tim Sullivan,
www.timsullivanart.com

Patricia Paccinini,
www.patriciapiccinini.net

Mandy Greer,
www.muchacreative.com/FilmAndVideo/Creatures-Film.html


8) How long does it normally take you to complete a piece of your artwork?8)Drawings can take 2-12 hours. Sculptures can take 6-30 hours. It depends on whether I have any pre-conceived ideas that I am working from or if I'm going for total exploratory surgery.

9) What else are you interested in besides visual arts?
9)I like watching waterfowl. I live by Lake Merritt in Oakland and since the lake is on the Pacific Flyway, we get a large variety of migrating ducks in the winter and brown pelicans in the summer.


10) Got any new projects planned?
10)I have a show coming up in Boston next spring. I still have a lot of friends in Boston so I see the show as a kind of homecoming.

11) How would you describe your art to someone who could not see it?
11)Fretful little exorcisms.

12) What other talent would most like to have?
12)I wish I could write and play music on a variety of instruments. The ability to fly would be cool. I'd also like to be able to do math equations in my head.

13) What are your most beloved items?
13)My wife (of course), my cats, and I have lots of work from artist friends based on trading.

14) Favourite books?
14)Recent reads include: Cruddy, Snow Crash, The Diamond Age, Carter Beats the Devil, America: The Book, Lies and the Lying Liars Who Tell Them, Naked Lunch, Running with Scissors, Me Talk Pretty One Day and Dress Your Family in Corduroy and Denim, Hyperion...

15) Do you remember the first drawing you made?
15)No. My Mom claims that I was drawing since I could hold a crayon. She recently gave me some drawings she had saved from when I was three. The figures in these drawings show not only the distorted perceptions of a child, but a fascination with skulls, teeth, spirographic eyes, and invented body parts.

16) What kind of music do you like and do you listen…and is the music important for your art…?
16)Recently: Thee More Shallows, cloudDEAD, Why?, Beck, Tortoise, Califone, The White Stripes, Rachels, Rodan, Slint, Husker Du, Buzzcocks, The Beta Band, Matmos, Boards of Canada, Ui, Miles Davis (from the 70's mostly), Herbie Hancock, Funkadelic, Chicago Underground Duo, Spring Heel jack, Jaga Jazzist, Will Oldham... I would say that music is pretty important for me, especially when making art.


17) Any advice do you have for artists?
17)To other artists and creative types out there, keep on keeping on! Nothing helps maintain your sanity (and others) like making stuff.

18) Your contacts…E-mail….Links…
18)
john@bunnywax.com
www.bunnywax.com