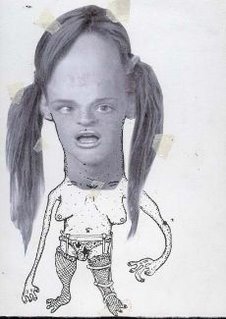 Q) You in 1…2…3 … In how many words you want…

A)Made of mud.

Q) Do you remember the first draw you made?

A)No not really I have always been drawing as long as I can remember.

Q) What is your favourite thing to draw and why?

A)I don't have a favourite thing to draw as such but saying that I do keep returning to the idea of the figure.

Q) Other artists do you like…?

A)Brueghel, Goya, William Hogarth, James Gillray, James Ensor, Paul Klee, Philip Guston, Robert Crumb, the Chapman brothers, David Shrigley, Marc Bell, Seth Scriver, Inka Essenhigh

Q) Who and/or …What are some of your inflences?

A)Outsider art is a major interest of mine and I think it informs a lot of my work.

Q) In these days you're working on…Your current projects…

A)I am involved in the setting up and running of a temporary art shop that goes under the name of Splinter. www.myspace.com/randomsplinter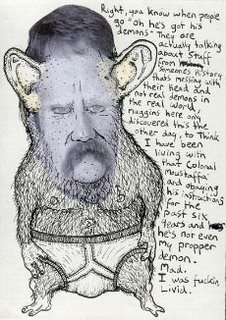 Q) What kind of music do you like and do you listen…And is the music important for your art…?

A)At the moment I am listening to a lot of blue grass and traditional Irish music, I think that I pick up on certain themes that exist within some of the music; its importance to the work can fluctuate.

Q)What is creativity for you?

A)The ability to question a subject or object in a way that changes it into something new.

Q) Favourite books?

A)Kafka, Bukowski and I have an audio book of under milk wood by Dylan Thomas which I think is incredible.

Q) What's your favourite medium to work on?

A)The medium I work most in is ink on paper but I don't have a particular favourite, it's what circumstance dictates and what's available to hand at a particular time.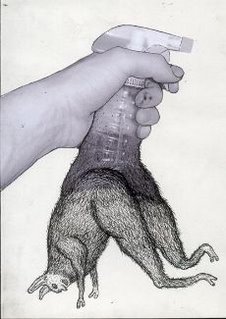 Q) What else you're interested in besides visual arts?

A)Not a lot to be honest as I find I find the process of my work and the world that informs it a full time occupation

Q)Got any projects planned…?

A)I am currently working on a new book that should be out in January.

Q)How would you describe your art to someone who could not to see it?

A)Its the clashing together of many opposing factors instigating the idea of the grotesque, but because it resides in the world of visual art you really do have to see it.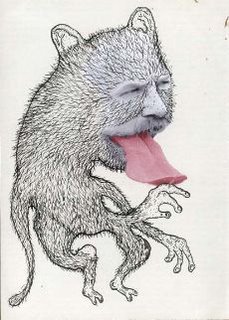 Q) What do you fear most?

A)Bees on toast

Q)What is your greatest ambition?

A)To be able to keep working.

Q)How importanti is self-promotion for an artist nowadays?

A)It's something you have to do, the world is absolutely saturated with artists and no one is going to come to you.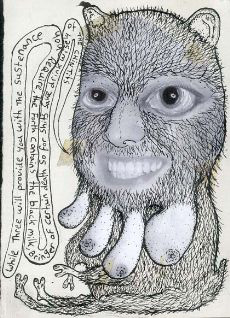 Q)A message for the readers from your heart…

A)Not my words but I agree-
"natural guts defeating natural talent that's the best"

Q)Your contacts…e-mail…links…

A)
www.stolenideas.com
www.myspace.com/andrewjamesjones
info@stolenideas.com